---
Eden Prays August 2017 – Forgiveness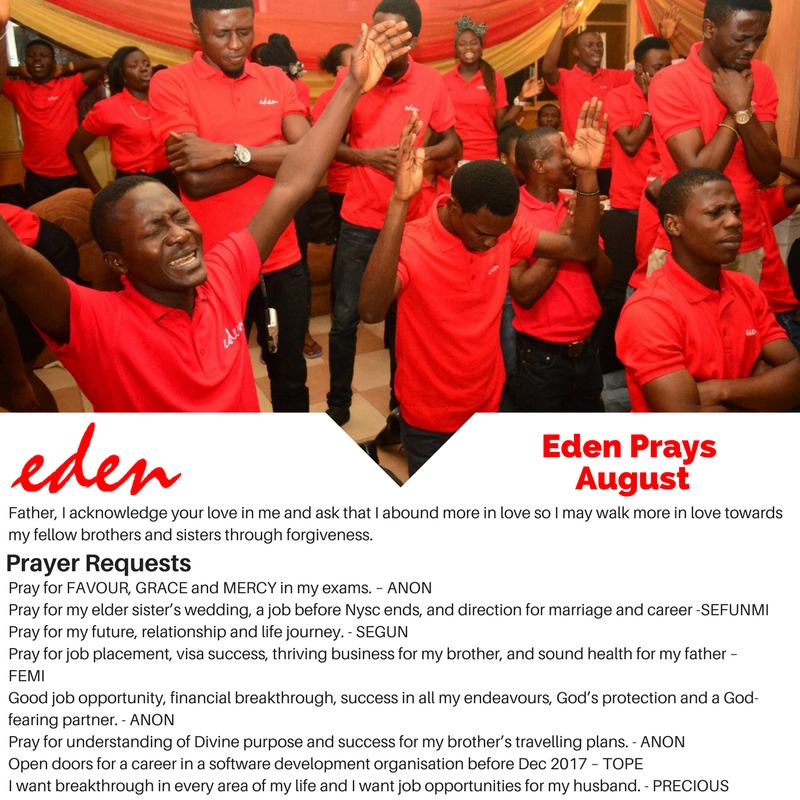 Forgiveness
Isa. 43:25 (AMP)– I, even I, am He Who blots out and cancels your transgressions, for My own sake, and I will Not remember your sins.
Forgiveness is a promise, when making promises a recurring tense is found which is the future present tense. In the memory verse, we see God making a promise to His chosen people that He will not remember their sins. What this means is that God (saints) will not relate with you based on your offence but based on what God has done for you in Christ Jesus.
As new creation encoded with the DNA of God, we represent God on the earth and if God had promised us forgiveness ever before we sinned, then we should credit forgiveness into the account of everyone we will ever interact with. By so doing, we show the love of God shed abroad in our hearts and we do not keep offences. Knowing what to do and doing it are not the same, we know we should forgive but sometimes find it difficult to do. When we generate adequate power through prayer (especially in tongues) – James 5:16 then doing what the Word says becomes easy.
PRAYER – Father, I acknowledge your love in me and ask that I abound more in love so I may walk more in love towards my fellow brothers and sisters through forgiveness.
PRAYERS
I am writing my final exams to the last lap of medical school, I pray for FAVOUR, GRACE and MERCY in the forthcoming ORAL part and the rest part of the exams. – ANONYMOUS
I want you to join me in prayer for my elder sisters whose wedding is due in December that everything works together for their good and the wedding will hold according to the word of the Lord.
Also, I have sent out applications to some organisations for employment, I want to get a job before the end of my NYSC (October). I want these two places FHI360 and CRS, that I will be not be limited by my academic qualifications.
I want direction in my marital and career, I do not want to take decisions that will lead to destruction. – SEFUNMI
I need prayers on my future, relationship and life journey. I want all my wishes and will to be answered and endorsed by God Almighty. – SEGUN
I want the Lord to perfect all that concerns my health both inside and outside my body and take away all aliments from me. – ADEOLA
I need prayers for a job placement as I am about to finish my NYSC, I want to be favoured at my visa application at the embassy. My brother's farming business is not doing well, I need the Lord's touch on his business. I need the Lord to provide for my Dad and grant him long life with good health. – FEMI
Good job opportunity, financial breakthrough, success in all my endeavours, God's protection and a God-fearing partner. – ANONYMOUS
I pray that the Lord will open the eyes of my understanding to key into His Divine purpose for me in all aspects of my life. Also, that the Lord should open doors for my brothers travelling to further his career overseas. – ANONYMOUS
I desire that doors are opened unto to me supernaturally to be gainfully employed in a software development organisation before the end of the year (Dec 2017) – TOPE
I want breakthrough in every area of my life and I want job opportunities for my husband. – PRECIOUS
I am starting my bar final exams, I want that the Lord takes delight in me, help me, manifest in me the spirit of excellence and that HIS presence to go with me. – PELUMI
I need financial breakthrough and a graduate job. – DAVID
I want an increase in my G.P this semester. I am preparing for ICAN exams I want direction and strength. I want prayers to be offered for my mum's health and finances,
I want to be stable emotionally and I want God to lead me in my decisions concerning relationships. I want the grace to be steadfast and strong. I want to know God's plan and purpose for my life – DEBORAH
I want my in-laws to be saved and for my project, I want favour from individuals and organisations to support the work – ANONYMOUS
May God of impossibility give me a permanent job, and give me twins and help my husband in His business to be booming. Help us in our Christian life, to know Him more each passing day in Jesus mighty name Amen.
Mrs E.A
Favour for my friend as he seeks visa to travel for further studies. – ANONYMOUS
Pray to God for the complete healing for my Mum – ANONYMOUS
Help me pray for GOD to give me a beautiful surprise resulting to a grand testimony before this year runs out m- BIBI
I pray that God directs me to a God-fearing person for my wife and I want to be established and married before 2020. – IDOWU
I want you to pray that God directs me in my decision making for my Postgraduate studies in the choice of school and course and provision of funds – ABIMBOLA